A PRAYER
By Selma Dimitrijevic,
adapted by Niall Bishop and David Macintosh Loumgair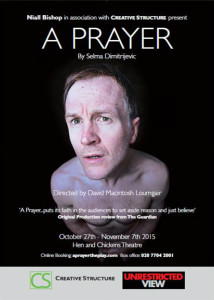 God doesn't exist. M knows that. Everyone knows that. M lives in a world of reason and science and facts and probability and cause and consequence.
He always did. So why is he suddenly praying?
Visit the 'A Prayer' website.
October 27th – November 7th 2015 Hen & Chickens Theatre Bar, Islington
Prayer reviews
October 29th Dan Zbijowski:   'Life affirming, charming and provocative'
http://www.uktheatre.net/magazine/read/a-prayer—hen-and-chickens-theatre-bar_2881.html
November 3rd Chris Omaweng: 'A unique play…..a thoughtful and interesting approach to grappling with the issues of life that science alone does not sufficiently answer.'
https://www.londontheatre1.com/news/120150/a-prayer-the-hen-and-chickens-theatre/
 November 3rd James McKendrick:  'an intelligent, ambitious and deeply moving piece of theatre'
 http://www.remotegoat.com/uk/review/12404/intelligent-ambitious-and-deeply-moving/
November 3rd  Heather Jeffery:  'Endearing, funny and brave'
http://pubtheatres1.tumblr.com/post/132539199162/a-prayer-by-selma-dimitrijevic-artistic-director
'A Prayer…puts its faith in the audiences to set aside reason and just believe'
Original production review from The Guardian
Cast
Niall Bishop – M.
Director
David Macintosh Loumgair
Creative team
Executive Producers – Ian Grant, Alison Burns, Niall Bishop
Stage Manager – Sarah Trim-West
Production Design – Catherine Baines
Sound Design -James Lawrence
Lighting Design – Jingwei Chen
Marketing Manager – Jamie Gavin, inPress Online Publicity and Programme – inPress Online Photography – David Sprecher
Produced by Creative Structure Ltd in association with Niall Bishop www.creativestructure.net
A Prayer © Selma Dimitrijevic 2011
Acknowledgments
Creative Structure and Niall Bishop wish to thank: Felicity Wren, James Wren and
Mark Lyminster of the
Hen & Chickens,Theatre Bar, Islington
Niall Bishop (M./Co-Producer) trained at the Royal Central School of Speech and Drama and the Focus Theatre in Dublin. Recent theatre includes Major Barbara, Largo Desolato (Theatro Technis), No Fairy Tale (Questors), Stones in His Pockets (The Gatehouse). Recent film includes shorts Rot, Confronted and 'Pursued' which screened at the 2015 'British Shorts' film festival in Berlin.
Selma Dimitrijevic
Selma (Author)is director and writer and artistic director of Greyscale.
Her plays include Gods Are Fallen And All Safety Gone (Greyscale UK and international tour),
The Gamblers (Dundee Rep/Greyscale) and Night Time (Traverse). Her work has been performed in UK, Croatia, Russia, Canada, Georgia and Ukraine. Selma has translated over 15 novels including work by Salman Rushdie, James Kelman, Ali Smith, Irvine Welsh, Roddy Doyle, Zadie Smith and Susan Sontag as well as plays by David Harrower and Enda Walsh.
Jamie Gavin
Jamie Gavin (Marketing Manager)is the managing director of inPress Online, an award winning media agency providing editorial, video, and social content. He also works as a presenter, producer, and media reporter for news organisations including the BBC, CBS, and FIPP – the International Media Association. Jamie began his career as an actor, working on television show Hollyoaks during his time at university, before gaining a Residency at Warwick Castle and signing with a London-based agent.
Ian Grant
Ian Grant (Co-Producer) is a theatre producer, actor, writer and publisher.
He exec-produced Stella Europa (Hen& Chickens), Macbeth (Cockpit Theatre). Recent writing includes Stella Europa and After the Ball, (Tower Theatre play- writing competition 2014 shortlist).Acting includes Agincourt (St George the Martyr),Cyrano de Bergerac (CorbettTheatre),Largo Desolato (Theatro Technis ),The Taming of the Shrew (Theatro Technis and Jardin du Shakespeare, Paris), Macbeth (Cockpit Theatre) and Hamlet (Little Wood and Bridewell Theatre). He trained at East 15 Acting School. Ian is Chairman of Inpress Books, an Arts Council NPO that supports and promotes independent literary publishing companies.
Jingwei Chen
Chen (Lighting Design) recently graduated from the University of the Arts London with an MA in Theatre Design. Coming from and ar t and design background allows him to look at lighting not just in a technical terms, but also as dramatic tool to shape space and sculpture characters on stage.
James Lawrence
James Lawrence (Sound Design) trained as an actor at ArtsEd. Recent theatre includes:Jack inThe Importance of Being Earnest,Granillo in Rope (both Paul Taylor-Mills Ltd), Dominic in Amy's View, Evan in September Tide (both Bill Kenwright Ltd), Zadkiel in Travesti (Pleasance / Unbound Productions)
Recent screen includes: Calum Best in The Last Hours of George Best (ITV Studios). Recent sound design includes: Romeo and Juliet (Jackinabox),Two Sisters (Southwark Playhouse) and Pause (Moustache Contraption).
David Macintosh Loumgair
David Loumgair (Director) is a freelance theatre director from Scotland, who has trained on courses run by directors including Dominic Cooke & Lyndsey Turner. Most recently he was Trainee Director on a version of Medea by Rachel Cusk at the AlmeidaTheatre, directed by Rupert Goold (Artistic Director). David is also Joint-Artistic Director of Dogs of War Theatre, a company crying havoc with traditional convention and reimagining classical stories through the lens of new writing. He has previously worked for the Almeida Theatre, Paines Plough, LIFT and Shakespeare's Globe, and other directing credits include The Smallest Stor y Ever Told (Kings Head Theatre), Screwface (AD – Bush Theatre) & A Game (Hackney Showroom).
Sarah Trim-West
Sarah Trim-West (Stage Manager) has credits including Liliom (Bread and Roses) Sheltered (Tabard Theatre) Dorian Grey (The Alchemic Order). Sarah studied at The University of North Texas and EAST 15 Acting School.