Stella Europa
21 – 25 April 2015. Performed at the Hen and Chickens Theatre, Islington.
The setting for Stella Europa is contemporary politics; the approach actor-led, minimalist, fast. The climax engages the audience – which way will they vote? – and the final scene reflects the audience's response.
The play pits the values of Europe against the values of the British Independence Party. It pits the growing popular support of the BIP against the assumptions and connections of the British political establishment. It pits a passionate belief in the peace of Europe, reason, respect, understanding and dignity in public affairs against a passionate belief in 'Britain for the British, escape from Europe, our money, our jobs'. This is now, this is what is happening in the Spring of 2015. Nationalism is gaining momentum, the case for Britain in Europe is on the back foot, where's the passion?
'A really well written and constructed piece.'   Barry Bowen, Chairman, Harlow Theatre Company
Synopsis
Stella Herbert, professor of philosophy, believes passionately in the values of Europe. Nicholas Formio, leader of the British Independence Party, targets the General Election in May 2015.   Stella detests Formio's far-right politics and his disdain for Europe while consuming large sums of European taxpayers' money. Ally Erskine, one of her students, and John Dove, a charismatic poet/lecturer, urge her to stand for Parliament against Formio.
Ally is bitter, feels demeaned by Stella; she does not know she loves John; John (the lover of Lady Mary, Stella's mother) has social pretensions but no money.   Ally sucks John into the worlds of pornography and passport-trafficking, on the way ensnaring Laura Anscombe, rising TV presenter of current affairs.   Stella takes on Formio in the May 2015 election campaign and politics; sex and blackmail cause the political establishment and the new media underbelly to smash.
Acknowledgements
Alison Burns and Ian Grant of Creative Structure wish to thank: Andrea Brooks, Zoë Clarke, Nick Hastings, Steven Maddocks, Coralie Prosper, Denise Stephenson, Felicity and James Wren, Dave Wybrow.
Ian Grant of Creative Structure Ltd is the Executive Producer and writer of Stella Europa. The first performance of Stella Europa was given on April 21st 2015 at the Hen and Chickens Theatre, London. The cast, in alphabetical order, was as follows:
Jack Cameron – Ally Erskine / Lambros Fountoulis / Ted Barnes
Euan Forsyth – Robertson / Jimmy Kerridge
Steven Maddocks – Henry Anscombe
Isabelle Clara Mason – Laura Anscombe / Kristina Winberg / Angela Clissold
Laura Reeves – Beatrice Tremain / Tatiana / Amelia
Justin Stahley – Geert Wilders / John Dove / Jack Adams
Denise Stephenson – Marine Le Pen / Lady Mary Herbert / Celia Winstanley
Chris David Storer – Nicholas Formio
Anna Whitelock – Stella Herbert
Directed by Nathan Markiewicz
Executive Producer – Ian Grant
Associate Director – George Siena
Stage Manager – Zoë Clarke
Marketing copy and design – Steven Maddocks
Social media marketing – LittleGold Online
Photography – David Sprecher
Stella Europa © Creative Structure Ltd 2015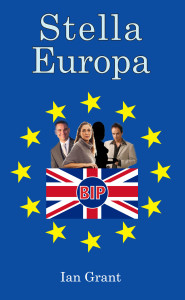 Buy the full text at Wordery